Mr. K

Advisor

Posts

: 1919


Reputation

: 33


Join date

: 2018-01-07


Age

: 72


Location

: Below sea level

on Tue Jan 09, 2018 1:25 pm
The following were lifted from our old home just before it was wiped. Starting with some poetic stuff by FakeFreef:

I
my stuuff is grate
like jailbait
like spam ina can
wamm bambam

II
all da roun hols
at da gollf corse
owt jummp da mols
wit a bigg fat orse
Mr. K

Advisor

Posts

: 1919


Reputation

: 33


Join date

: 2018-01-07


Age

: 72


Location

: Below sea level

on Tue Jan 09, 2018 1:31 pm
Message reputation : 100% (1 vote)
I first posted this review of DarkGothicQueen's musical Surf's Up! on August 31st, 2010:


I have read the script of Surf's Up! several times now and my love of it and sense of involvement, while there from the beginning, have grown with each fresh read. More importantly perhaps, so has my faith in its potential for staging. As it is, the characters, which are modelled on the Beach Boys in name more than anything else, jump off the printed page at you.

At the centre of the plot are six friends. Most of them love surfing, although two prefer to play cribbage. One is a little on the short side. Two are into motorized vehicles, including the Woodie that chugs onstage from time to time. And the ladies' man of the group has just learned he's been drafted into military service. So this will be their last real summer together on their beach somewhere in Southern California.

Their cameraderie, and the warmth of feeling which comes at you in waves, will make you wish it were your beach too. Even the villain of the piece, the switchblade-toting leader of a motorcycle gang, turns out to have a redeeming feature.

The setting throughout is an expanse of real sand bookended by two bars run by surly guys with good hearts. As for the music, the Beach Boys' wonderful songs weave their way effortlessly through the plot as if they'd been written specially for the occasion.

Both romantic subplots end on a positive note: Rhonda saves her less-than-tall admirer from an impossible marriage, and Wendy helps right what went wrong between her and the group's car mechanic and premier surfer.

Is there anything in it I would criticize? Let's leave that to the two non-speaking characters in the show, a voluptuous cardboard cutout advertising chow and a nerd.

You will laugh like hell at times, at others you may find a tear welling. Indeed, I defy you to stay entirely dry-eyed during the dream sequence. As the Brian character puts it, "Even though I'm losing at cribbage"----he loses every game----"I feel really good." Which one suspects is what the audience will feel as they leave the theatre at evening's end.
Mr. K

Advisor

Posts

: 1919


Reputation

: 33


Join date

: 2018-01-07


Age

: 72


Location

: Below sea level

on Wed Mar 21, 2018 10:27 am
As a retired palindromist of some years' experience, I feel qualified to give budding palindromists a few tips on what is often a difficult task. The examples are not all top-notch but they serve their purpose here:
- Initials and abbreviations should be used only if it's obvious what they stand for. <PS:> and <(sp?)> make a handy pair.  

- One way to resolve an impossible combination of letters arrived at by reversing a word is to question them:

No net timbre? Break a sloop now! (Broke 'em, John.) Ho, J. Meek orb won pools, aka E.R.B. (E.R.B.?). Mitten on

- Another is to make those letters stand for something:

Fresno's up at southern air, Marat. Author Ian R., eh? Trondheim, i.e., HD. Northern air: oh tuatara! Mr Ian R., eh? T.U.O.S. (tap us on, serf)

- It's no disgrace to leave out words that are impossible to reverse (Mike's "interstescene" is one!) but don't give up without a fight. Blueberry is another palindromist's nightmare (yrrebeulb, anyone?), so it means resorting to the most desperate measures:  

Red is no cotton... Red Neva "log-o-tree" denims (A.J., Ayr). Re: B, EU, lb. (abbrev.). Gnu on noun G: verb B. A blueberry, a jasmine deer to go. Lavender not to consider

A second example: I knocked together this ode to the most ghoulish BB song in an hour or two. Solution being the devilishly awkward word it is to reverse, I had to be creative (again):

Deficit, eh? Tap my solution! I hem, 'tis I. Is it "Me hi"? No, it "U lo"! (Sympathetic, I fed.)
Palindromes largely write themselves. Sometimes the results surprise even me!
- Trying desperately to come to terms with a now forgotten incident involving blue cheese, it occurred to me that the best way to exorcize it was to construct (surprise, surprise) a Blue Cheese palindrome! What I find fascinating about the result is that the two couplets of the little song at the centre (call it an In Memoriam Lenny Bruce for imbeciles) are identical except for two letters in <bleu> and <blue>.

Des/Ned: "No cheese, Ma? Is red leap (e.g. Amor) fondue floop-all-up?"

"I recur bleu
L. Bruce, R.I.P.
I recur blue
L. Bruce, R.I.P."

Ullapool feud. No fromage, Pa. Elder Siamese, eh? Condensed!
Mr. K

Advisor

Posts

: 1919


Reputation

: 33


Join date

: 2018-01-07


Age

: 72


Location

: Below sea level

on Mon May 07, 2018 11:25 am
These two felt pen illustrations of mine date from the mid 1970s. Unlike my larger drawings from those days, they haven't faded thanks to being in a book rather than constantly exposed to the light.
Mr. K

Advisor

Posts

: 1919


Reputation

: 33


Join date

: 2018-01-07


Age

: 72


Location

: Below sea level

on Fri Jan 04, 2019 8:40 pm
This is one I found among my iPhotos. It probably dates from the mid to late '70s: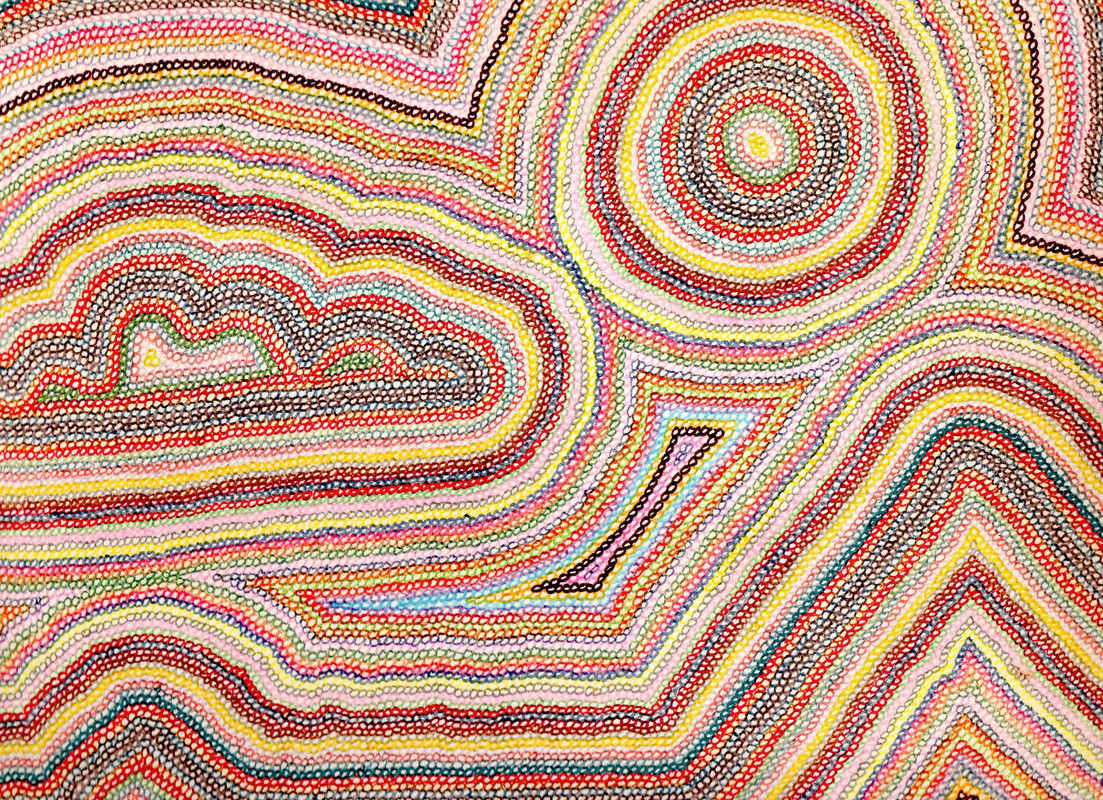 As for this one... It dates from (gulp) 1966 and was made by the following means (this is how we did things back then):

First I covered a piece of hardboard with yellow paint. Then I added some largish black shapes, mostly around the edges. Then I laid the board down and emptied a can of fixative over it, the way painters do. Next, I left it out in the rain for a few days. And then what happens? There's a show of local art (add an f to that if you wish) at the village hall, with all this kitschy ducks-in-the-landscape kind of shit. My brother tacks on something resembling a frame and into the exhibition it goes. Guess whose painting is one of only two mentioned in the local paper? And described as beautiful to boot?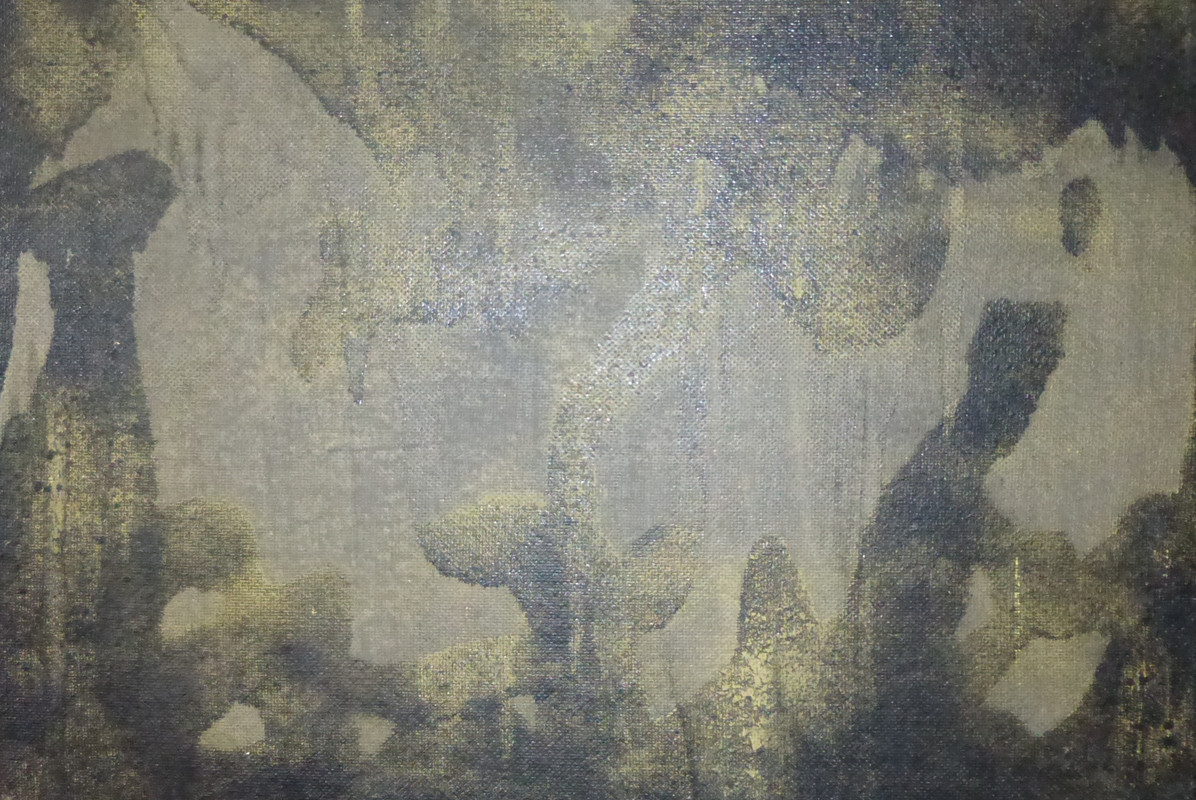 Mr. K

Advisor

Posts

: 1919


Reputation

: 33


Join date

: 2018-01-07


Age

: 72


Location

: Below sea level

on Thu Feb 27, 2020 9:17 pm
I found this felt-pen drawing while tidying up our supply of wrapping paper, much of it recycled. This one was rolled up, which is probably why its colours haven't faded much. I should imagine it dates from the mid to late '70s: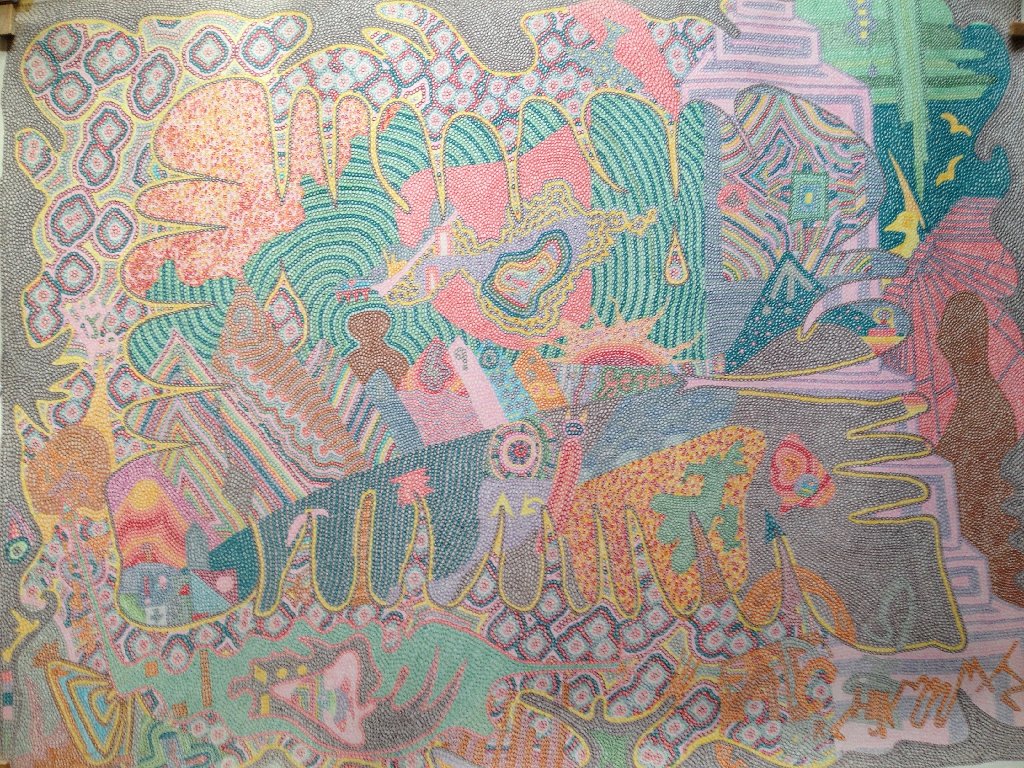 Permissions in this forum:
You
cannot
reply to topics in this forum